Mother's Day Special
It's fast approaching – this year is already zooming by and Mother's Day is on the horizon! If you're searching for a gift for your wife, mother, mother-in-law or a friend, this Mother's Day Special might be the answer! Mums love images (I know – I'm a mum too!) and I love looking back at photos of us, the babies through the years…it's one thing that can take me back in time. The memories. They're so special!
This special includes your own gallery for you to select your 8 images which are included in this price with a $50 credit towards artwork. If you're anything like me, you'll love all your images so there are options to upgrade and purchase extras if you like :) The session can be held any time until October 2021 and will be held at one of my favourite locations. Payment plan options are available too.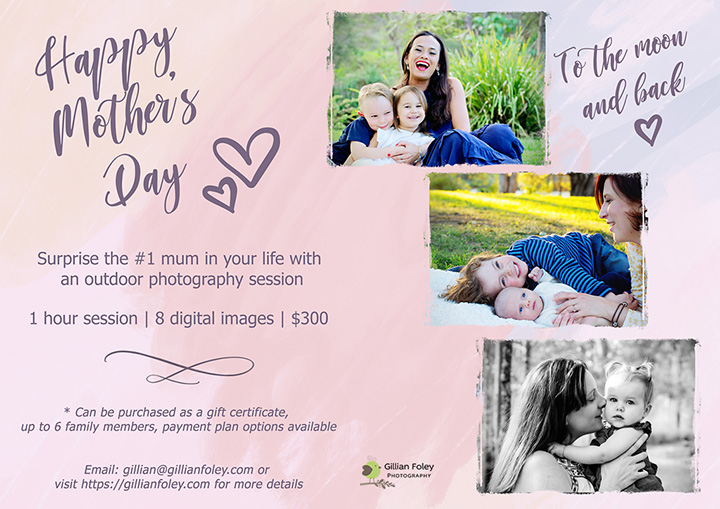 You have the option to purchase this special for someone…well, special – and not only for Mother's Day – for any occasion! Perhaps you have no children, but you have furbabies you'd like to have photographed? No worries! I can accommodate (as long as I get a few cuddles!). Let me know if you'd like this as a gift certificate for somebody, with a physical address and I'll have the gift voucher snail mailed.
Mother's Day falls on 9th May this year, so I'll honour this special until 9th June 2021 :) Contact me for details and bookings, or message me via Facebook :) I look forward to seeing you at a session soon!
Gill xo
---