An Easter Gift – Easter Frame Download
Going through my archives again, I found lots of old digital scrapbooking projects and photos of the boys when they were younger. I found two old Easter projects I'd completed in 2007. The pics weren't technically great (neither were the layouts to be honest!), but they brought back memories of my boys' first ever Easter egg hunt.
I felt inspired to do some digital design-work again, so set about creating some Easter papers and then thought a little Easter gift for friends would be nice to do too! Since it's all about the photos, I thought a .png Easter frame freebie would be ideal. No mess, no fuss. Open both the frame and image in an image editor that supports layers like Photoshop/Elements/Gimp (there are free online options available too!), slip image layer underneath frame layer, adjust image size if necessary, merge and save as .jpg and voilà. You have a framed image ready for printing or sharing with Granny and Grampa :) I've done them in landscape and portrait, and in colours for Jacks and Jills.
Here's a preview. I used my 2007 photos (much to Matt's horror!) to add to my own scrapbooking albums :) How cute were my boys???! <3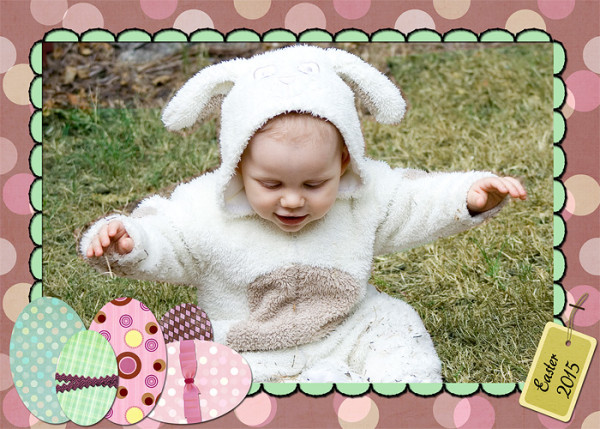 For those who need a little help with working with layers, I've created a little tutorial using the online editor, Pixlr. The .zip files are available below. Feel free to link back here or on my Facebook page with your creations. Please have a read through of the Terms Of Use included in the .zip file. The files are for personal use only. Credit isn't required, but is appreciated!
Enjoy and Happy Easter! ~ Gill =D
Download Easter frame freebie below:
| For Jacks | For Jills |
| --- | --- |
| [sdm_download_counter id="3702″][sdm_download id="3702″ fancy="0″] | [sdm_download_counter id="3716″][sdm_download id="3716″ fancy="0″] |