2015 Xmas Mini Sessions
I can't believe how quickly this year has gone! I know I say it every year and every January I have the best intentions of getting Christmas gifts/cards/craft sorted and I never *completely* succeed! This year, we're excited to offer Christmas Mini Sessions for the family! This is a great opportunity to get some updated family photos without having to commit to hour-long sessions, especially at this busy time of year. Thinking about custom Christmas cards and/or personalising gifts for family and friends? We have you covered!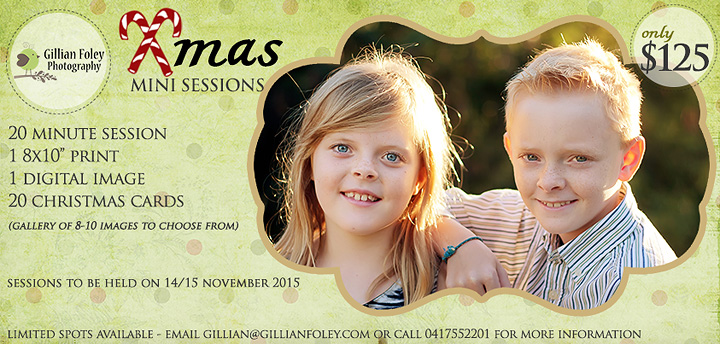 The Details:
You'll receive:
one 8×10″ print,
one digital image (for printing or creating your own personalised gifts this year)
twenty custom Christmas Cards of the same design (envelopes included; 3 templates to choose from)
All images selected by client available (as web-sized, watermarked images for social media) in a downloadable zip file
25% off any additional a la carte prints
The session will take about 20 minutes and will be conducted at the Pan Pacific Peace Gardens in Redbank (parking available). Due to tight time constraints, please arrive 5 minutes before your scheduled time. There are covered areas with tables and benches to wait and if you need to keep children occupied, bring along some breadcrumbs to feed the ducks and geese whilst waiting! If you have very young children, please select a time that will best suit your child's sleep/activity schedule. If you're looking for ideas on what to wear, check out this link for ideas.
NB: These sessions are open to families of up to 6 members. $10 per additional person. No pets included unfortunately, as they're not allowed at the location.
Dates and Times:
The initial sessions will be held on Saturday, 14th and Sunday, 15th November and the time slots available both days are:
16h00, 16h20, 16h40, 17h00 and 17h20.
To book, please contact us via the contact page or email us at gillian@gillianfoley.com with three preferred time slots and we will confirm your booking via email and answer any queries you might have. We will also provide samples of the Christmas Card templates for viewing.
The full session fee is required upon booking to reserve your spot and is non-refundable. In the case of inclement weather, we will try to reschedule and failing that, provide a refund.
We look forward to making special Christmas memories for you this year!! =D ~ Gill